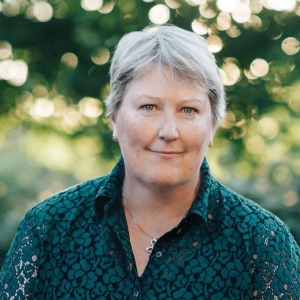 Dr. Cynthia Sheppard
Artistic Director
Dr. Cynthia Sheppard joined the Kansas City Women's Chorus as Artistic Director on June 1, 2015 after having been an active music educator in Texas (Wayland University and Howard Payne University) and Kansas (Olathe South High School) for 28 years. She was recognized by her choral colleagues in the Northeast District of KMEA as the Outstanding High School Music Educator for 2012-2013, and is currently President-Elect of the Kansas Choral Directors Association.
Dr. Sheppard is active as a conductor, singer, and adjudicator. She has prepared choruses for the Ft. Worth Symphony, Kansas City Symphony, and numerous musical theatre productions, conducted state and region honor choirs in Texas, Illinois, Kansas, and Missouri, and has sung with the Kansas City choral ensemble, Musica Vocale, the Kansas City Symphony Chorus, and the Cathedral Choir of Grace and Holy Trinity Cathedral. Her choirs have toured England, Spain, Germany, Austria, and Taiwan.
She holds degrees from William Jewell College (with study at Oxford University), Southwestern Seminary, and the University of Missouri (Columbia), where she studied with Wesley L. Forbis, Arnold Epley, David Keith, Robert Burton, and Duncan Couch. She has also worked with John Rutter in private score study.
Emily Marrin
Executive Director
Emily Marrin joined the Kansas City Women's Chorus as a singing member is 2013. She went on to serve as interim executive director in 2016, later being named executive director in 2017.
Emily brings 20+ years of marketing, public relations, and leadership experience to her role with KCWC. She has coordinated local execution of strategic promotional and publicity campaigns that included film, television, live entertainment, video games, entertainment venues, and consumer goods. She has also been a national publicity and promotions account manager for a major marketing agency. Successfully transitioning her industry knowledge and leadership skills into the management of regional campaigns across the country and overseeing account representatives nationwide for clients such as Lionsgate Entertainment, Fathom Events, and The Metropolitan Opera on Screen.
Emily brings a unique perspective and creative approach to all of her projects, which has earned her the respect and admiration of both her peers and her clients.
Board of Directors
The Kansas City Women's Chorus is overseen by a Board of Directors. Currently, the Board positions are filled by chorus members, non-singing members and community supporters. If you or someone you know would be interested in serving on the KCWC Board of Directors, please contact the Board of Directors.
Scheduled board meetings are open to all members of the Chorus and are held at Central Presbyterian Church. Board minutes are available upon request by contacting us.
Uli Schneider, President
Marjie Siegfried-Stuber, Vice President
Joan Maxwell, Secretary
Maggie Doedtman, Treasurer
Payton Kelly
Ann Linnan-Smith, Chorus Mgr & Liaison
Tracy Prince
Kristin Raven
Tim Stuber
Emily Marrin, Executive Director
Cynthia Sheppard, Artistic Director