From Our Artistic Director . . .
I am so excited to announce our upcoming season – our 18th, in fact! – under the theme Timeless. We will kick off the holiday season (right before Thanksgiving) by exploring The Curve of Time, then celebrate Women's History Month in March by celebrating the contributions of women to a timeless American art form in All That KC Jazz. And we could think of no better setting for this concert than the KC's "timeless" theatre, The Folly! June is Pride Time, and we will be adding a third concert to our 18th season entitled Showtime: Pride! Read more about each of these concerts below, and please be our special guests. It won't be the same without YOU!
KCWC's 18th Season (2017 – 2018)
THE CURVE OF TIME
Friday, November 17, 2017 – 8:00 p.m.
Saturday, November 18, 2017 – 4:00 p.m.
Venue: Liberty Performing Arts Theatre (Directions)
As we traverse the curve of time in our lives, we encounter multiple passages – joy, sorrow, and change – that color our view of the holidays. Join us as we explore these passages with celebration, poignant reflection, and a great deal of fun.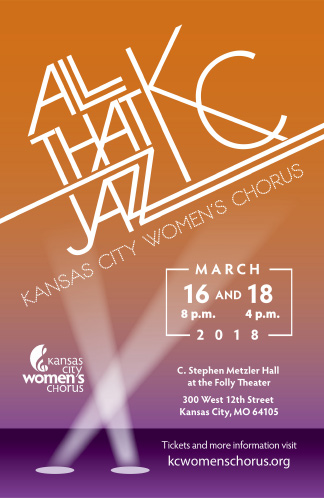 ALL THAT KC JAZZ!
March 16, 2018 – 8:00 p.m.
March 18, 2018 – 4:00 p.m.
Venue:
C. Stephen Metzler Hall at the Folly Theater


12th & Central, KCMO (Directions)

The Kansas City Women's Chorus will perform music by the great women of jazz, especially those with KC roots. You will experience improvisation and scat singing – two musical elements that are rarely bound by the strictures of time. Look for surprise local guests in the finale to end all finales in this not to be missed evening of jazz and blues.

We are thrilled to announce our special guests for both concert nights at The Folly! Well-known Kansas City Jazz and Blues female phenoms, Millie Edwards and Kelley Hunt will join us onstage for featured numbers as well as a finale to end all finales!

We also welcome members of the Mighty Mo Combo jamming with our band in the pit!
SHOWTIME: PRIDE!
June 3, 2018
Venue: The Polsky Theater, 12345 College Boulevard, Overland Park, KS 66210 (Directions)
We celebrate another timeless American art form, the Broadway show, as well as great themes from TV! This will be the first season where we have presented a third concert, and we want to help you kick-off your Pride celebration with a performance that is part trivia game show and part audience sing along. Will YOU be the last person standing in our "Name That Thang" version of Name That Tune?