Hilary Morton
Artistic Director
Hilary moved to Kansas City from Lawrence to begin teaching choral music at Shawnee Mission North High School. She previously taught at Lawrence Free State HS in Lawrence and at Oregon Trail JHS in Olathe. Hilary attended the University of Kansas and sang under the direction of Simon Carrington. She dual-majored as an undergrad, receiving a Bachelor of Arts in Music Education and in Theatre/Voice. She minored in French and holds a Masters of Choral Pedagogy from KU. She has been involved in theatre in Lawrence for almost 40 years, from sketch comedy productions to Broadway cabaret performances. When Hilary is not singing or making others sing, she is nestled with her fur babies, watching scary movies whilst baking cookies and crafting specialty cocktails for her loved ones.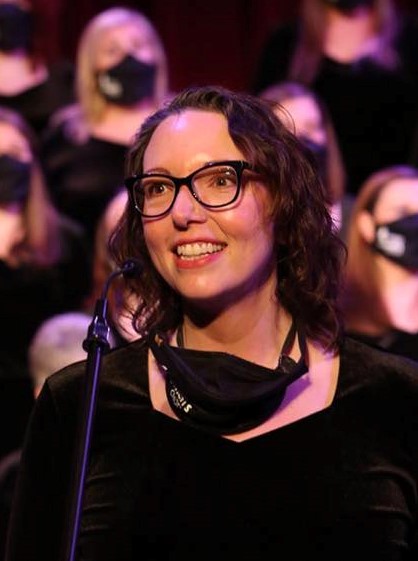 Emily Marrin
Executive Director
Emily Marrin joined the Kansas City Women's Chorus as a singing member is 2013. She went on to serve as interim executive director in 2016, later being named executive director in 2017.
Emily brings 20+ years of marketing, public relations, and leadership experience to her role with KCWC. She has coordinated local execution of strategic promotional and publicity campaigns that included film, television, live entertainment, video games, entertainment venues, and consumer goods. She has also been a national publicity and promotions account manager for a major marketing agency. Successfully transitioning her industry knowledge and leadership skills into the management of regional campaigns across the country and overseeing account representatives nationwide for clients such as Lionsgate Entertainment, Fathom Events, and The Metropolitan Opera on Screen.
Emily brings a unique perspective and creative approach to all of her projects, which has earned her the respect and admiration of both her peers and her clients.
Board of Directors
The Kansas City Women's Chorus is overseen by a Board of Directors. Currently, the Board positions are filled by chorus members, non-singing members and community supporters. If you or someone you know would be interested in serving on the KCWC Board of Directors, please contact the Board of Directors.
Scheduled board meetings are open to all members of the Chorus and are held at Central Presbyterian Church. Board minutes are available upon request by contacting us.
Uli Schneider, President
Marjie Siegfried-Stuber, Vice President
Joan Maxwell, Secretary
Maria Doedtman, Treasurer
Ann Linnan-Smith, Chorus Manager & Liaison
Paula Glaser
Payton Kelly
Kathryn Lorenzen
Tracy Prince
Kristin Raven
Brianne Roberson
Luke Roberts
Timothy Stuber
Emily Marrin, Executive Director
Hilary Morton, Artistic Director