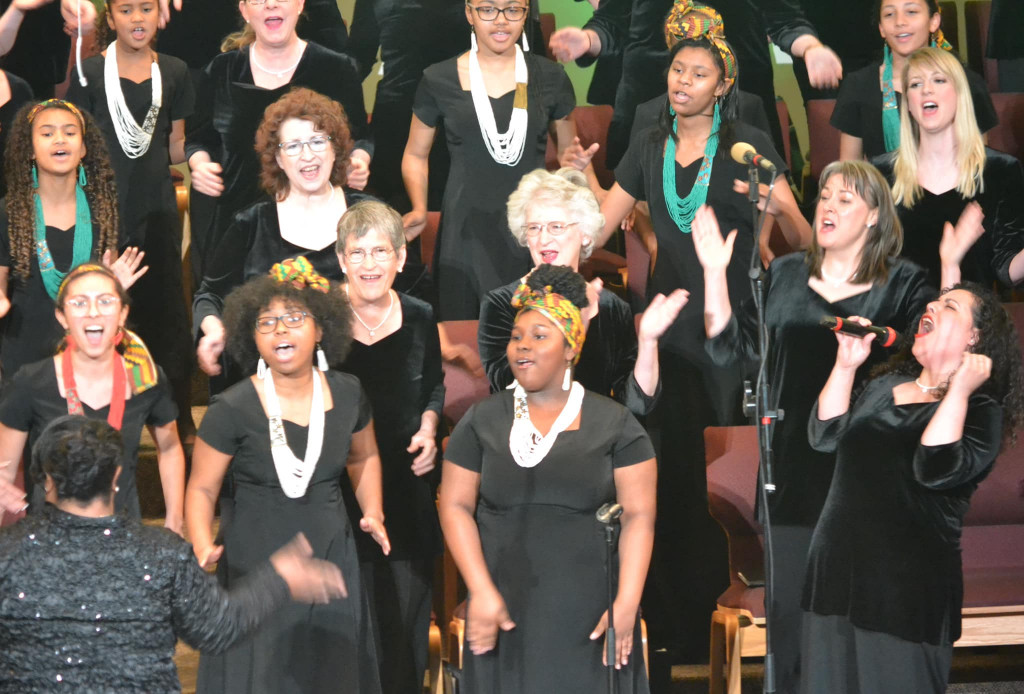 Come Sing With Us!
Membership in the chorus is by audition and open to all women's voice ranges. The Chorus prides itself on the diversity of its membership: demographically, culturally and professionally. If you identify in any way as a woman and you love to sing, we'd love to have you join us.
New members are welcomed each rehearsal session (defined as a specific set of rehearsals leading up to a specific concert, fall or spring). Individuals interested in joining the Chorus should contact the Auditions Chair either via email at auditions@kcwomenschorus.org, by phone at (816) 822-2344 or Contact Us through our online form. It is essential that all candidates attend and sing during the first rehearsal in the section they would usually sing with to see what participation in KCWC is like, get a feel for how the chorus sounds and works together, meet other singers prior to auditioning.
If you or someone you know is interested in scheduling an audition with the Kansas City Women's Chorus, reach out today!
Chorus rehearsals consist of our fall session (begins August/September) and spring session (begins January/February) and are held on Monday nights at the Central Presbyterian Church from 7:00pm – 9:15pm. Each session also includes two all-day Saturday rehearsals.
Chorus Members
Membership follows written guidelines for participation as singers and non-singing members of the Chorus. These Board and membership-approved guidelines address:
mission and goals
attendance and absenteeism
dues, scholarships and performance attire
committee and fundraising participation
social activities
Covid-19 protocols, masking and vaccination status
These guidelines are provided in the Chorus handbook, which is distributed to new singing and non-singing members so that all members are completely informed on issues dealing with management and maintenance of the Chorus.
Individual commitment, not only to performance excellence but chorus management and growth, is valued and encouraged!
Our Concerts
Our concerts are performed at exciting locations around the Kansas City area. Each season the Kansas City Women's Chorus performs a fall and spring/summer concert including a free education concert for Kansas City area school children. A periodic third performance event features a separate repertoire with lower priced ticketing and a focus on community outreach and support . More information on this season's concerts can be found on the Concerts page.
Volunteers Needed
The Chorus also extends an invitation to all who want to participate in Chorus activities as a volunteer. Volunteers are needed for a wide variety of tasks, and time requirements can be tailored to the specific availability of each volunteer. If you wish to serve in a volunteer capacity, please Contact Us or call (816) 822-2344.
KCWC COVID-19 STATEMENT
Effective immediately, any KCWC staff, singer or volunteer wishing to participate in in-person rehearsals and performances pertaining to the 2021-22 season must be fully vaccinated against COVID-19. Proof of vaccination is also required.
Accommodations are being made for singers with active membership status who are unable or unwilling to attend in-person. Active members will be able to observe Monday evening rehearsals live through Zoom or a recording, available for a limited time.
A singing mask will be provided to each active member for in-person rehearsals. Masks and distancing will be based on current science and local mandates. At this time, that means we will be masked and distanced while singing.
KCWC leadership has resolved to prioritize the health and safety of our singers, staff and community above all else. This requirement is a direct result of that commitment.